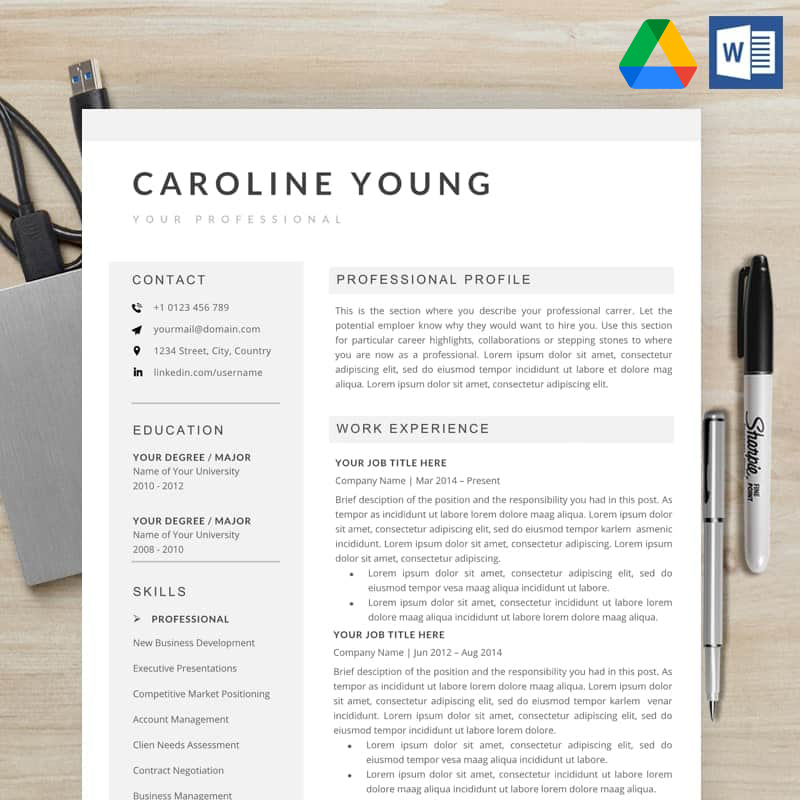 Caroline Young, a Professional Resume Template
If you are an experienced professional who needs a simple resume without any distracting colors or fancy font styles, then the Caroline Young resume template might work the best for you. Caroline Young is our professional resume template that includes a clean design format with a creative layout to fit in all the information in a well-organized way. The template works the best if you are a seasoned professional and do not want to miss out on any important information.
Design Format
Caroline Young resume template is divided into two sections and the left sidebar is highlighted in a different muted shade. The headers in the resume stand out and grab the reader's attention easily. The template emphasizes your work experience the most. You can describe your professional journey and include all the impressive details in the professional summary section to keep the reader engaged right from the beginning. The left top side highlights your contact details along with a link to your LinkedIn profile to help the recruiters know more about you professionally. The template includes simple bullet points to enhance readability and help the reader skim the resume easily.
1. Layout
The template includes a creative layout and innovative design elements to highlight the pivotal information in your resume. The effective use of pointers, sliders, grid layout, a sidebar with the muted color shade makes this template an ideal choice for individuals who want a professional resume that is aesthetically appealing. It is a three-page resume template that is ideal for professionals who want to ensure every important and effective information is present in the resume. From mentioning technical and professional skills to highlighting your previous work experience extensively, the template is designed to include every important detail that can help in increasing your chances of scheduling an interview.
2. Work Experience
The template puts primary focus on your work experience. It allows you to mention your work duties and responsibilities in a short paragraph followed by your accomplishments, recognitions, and professional milestones in bulleted points. The inclusion of bullet points grabs immediate attention and it is important that you mention all the pivotal and engaging details in those pointers.
3. Skills and Interests
The template gives you an option to highlight your professional and technical skills separately. You can also show your proficiency level for different technical skills with the help of a slider bar. The template also includes a section to highlight your interests to help professionals know about you on an individual basis. Mention the things you like to do in your free time such as photography, traveling, or playing football.
4. Add-Ons
The template includes a separate section called "achievement" for you to highlight your accomplishments that stand out the most. Note down the recognitions that are worth mentioning and can help the recruiters in decision-making. The template also allows you to add up to four references and to make it look clean and short, it includes a grid layout. It saves space and looks well-organized.
Caroline Young Template Details
File Format – Google Doc and MS Word Doc
Design Inclusions – Muted color shade, grid layout, highlighted headers, three-page template, bullet points
Job Nexus provides a wide range of free resume templates to help professionals meet specific recruitment needs. There are different professional, traditional, and modern resume templates that you can use as per the industry demands. All templates are easy to customize and do not require professional skills for editing. You can download the free templates as Microsoft Word files or Google Docs.